As a healthy school we work closely with our in-house catering team to provide nutritious and enjoyable meals and snacks for students and staff.
Our breakfast menu starts the day between 8.00 am and 8.30 am and cafeteria style meals are provided at morning break (20 minutes) and lunchtime (30 minutes). Students are encouraged to sit in the Café to eat their meals. In addition to the food being served in the Café, the 'Snack Shack', situated in the courtyard outside the Hall, sells hot snacks, cold snacks and drinks at break and lunchtime. There are picnic benches outside for use in fine weather.
Click here for the menu for the week commencing Monday 20th September. Monday will be Meat Free Monday for Great Big Green Week.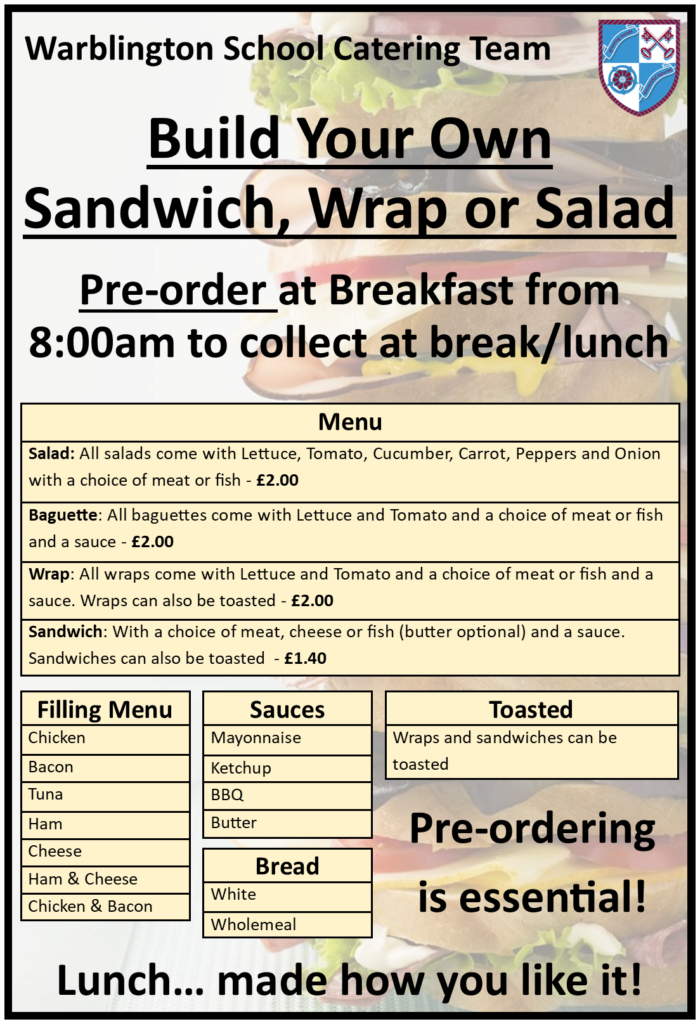 Parents/carers on one of the following are entitled to claim free school meals:
Income Support.
Income Based Jobseekers Allowance.
Income-related Employment Support Allowance.
Support under part VI of the Immigration and Asylum Act 1999.
Child Tax Credit, provided they are not entitled to Working Tax Credit, and have an annual income, as assessed by HM Revenue and Customs, that does not exceed £16,190.
Guarantee element of State Pension Credit.
If a student does not collect their free meal entitlement the caterers inform the Finance Office and the parent/carer is informed.
Applying for free school meals
Please click here for a convenient on-line service to check if your child is eligible for Free School Meals. You can also apply for Free School Meals using this same on-line service, or you can download a form using the links below or ask for one at our school reception.
To complete a check you will need the following information for yourself, or the person you are checking on behalf of:
Name, home address and email address
National Insurance Number or National Asylum Support Service reference number
Child's name, date of birth and school
Free School Meals Application form: