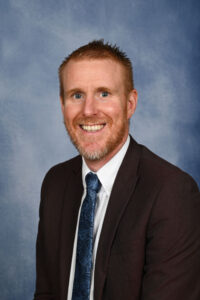 Thank you for taking an interest in our unique community. There is not a day goes by when I am not proud to be the Headteacher of this school and the community within it. Having just seen the Class of 2023 through five, very challenging years, we shared something quite unique in that we started our Warblington journey together. They left a legacy that will not be forgotten – that despite the challenges this year group faced, they obtained the skills and qualifications that best prepare them to tackle those challenges and enable them to go on and have successful futures.
I am consistently in awe of the character and resilience shown by our young people. Students are still coming to terms with gaps in their education thanks to school closures yet they seem more determined than ever to make up for lost time, taking advantage of the range of activities that we were once again able to put on. Whether that was taking part in Sports Week, staying for rehearsals for the school show, going out on trips and visits or just being able to have Christmas lunch or an assembly with the whole school together – it felt like we were, as a school at least, beginning to return to some form of normality. In a parents' survey last year (the results of which are in the Case Study 2022-23 Booklet, included in your pack), I was very pleased to see that parents felt their child was enjoying their time at Warblington – and felt we supported them well during these challenging times.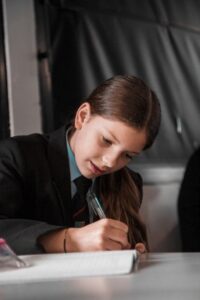 When I reflect on the past year, I never expected to be writing this in September 2023 with a waiting list for current year 7 or that the building work, which has caused such disruption, would be complete. It was important that during this time that our school improvement journey wasn't put to one side. This improvement journey is evident by the outcomes our Cohort 2023 who achieved fantastic results under very difficult circumstances, as for them, GCSE examinations went ahead as usual. I go on to talk in more depth around results again in the case studies booklet, but make no apologies for highlighting the Mathematics department, who built a community built on success and broke all Warblington records with some over 72% of the cohort passing maths, some 10% above the national average. I do want to congratulate each and every member of that cohort for their hard work and determination to become our new Warblington record breakers for GCSE results!
Warblington school has something quite special about it. We are a very small, but rapidly growing secondary school. At only 738 students we can do things differently here as we know individuals well. But it goes deeper than that. Everyone who visits will tell you just how welcoming the school is for new staff and students – over 40 students joined us mid-way through the year last year, with each one saying how they had settled in well and were enjoying school. It is a thriving community and I am proud to say our students are well behaved, friendly, kind and considerate. They welcome visitors and they are
proud to speak of their school. Our staff are passionate about improving learning and aim to inspire and challenge the young people we work with. A recent inspection by the Hampshire Inspection Team noted, "During the learning walk all pupils were engaged in their lessons. It was evident that teachers had a strong presence and command within the classroom environment, with subtle cues to engage pupils who may be off task or unsettled following a transition. These 'behaviour of learning' techniques were evident across the school, with teachers skilfully using eye contact, hand gestures and body language, without interrupting the flow of the lesson. This ensured any low-level disruption was addressed swiftly and meant behaviours did not manifest into something more. Behaviour seen throughout the day would align with the self-evaluation, with the school being calm and orderly, with pupils following staff instructions with respect."
Hampshire Inspectorate and Advisory Service (HIAS)
We understand that choosing a secondary school is a key decision. We believe that children have the right to the best education and during their time with us, we aim to equip all of our students with the skills they need to flourish in modern society; to make the best of opportunities and to be able to positively contribute once they leave Warblington School. The way we work with individuals on the Personal Development Curriculum has continued to build, and during our recent Hampshire Inspection, it was commented that, "The enrichment curriculum covers careers, equality and diversity, relationship and sex education and safeguarding. …all teachers deliver this within teams becoming more expert in their area. Leaders place value on this aspect of their work and this is highly visible across the school"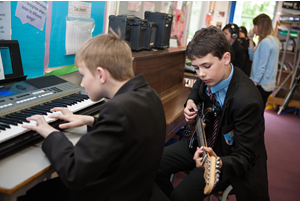 We have high aspirations for everyone who wears the Warblington School logo and we strive to improve ourselves through a clear focus on learning and achievement in a supportive environment. As a parent myself, I know that children and young people learn best in an environment which is secure, happy and caring. Our learning community works hard to create the right atmosphere and we pride ourselves on seeing each child as an individual. We take time to celebrate achievements together, whether they are academic, sporting, artistic or dramatic.
Here at Warblington, we are committed to bringing the best out of each and every student entrusted to us and being a small secondary school allows us to get to know each individual and provide them with the support they need that will enable them to thrive.
Curriculum is very important to us and has played a key role in our improvement in outcomes. Further information on our curriculum can be found later in this booklet and on our website. Teachers here are passionate about the subjects they teach and we believe students need to experience a wide range of subjects for as long as possible, which is why our options process begins at Christmas of year 9 and takes effect from that Easter, allowing us time to ensure each student gets the right level of advice and
guidance to help them make informed choices. Please go to our website to look at the curriculum maps to see what each subject covers.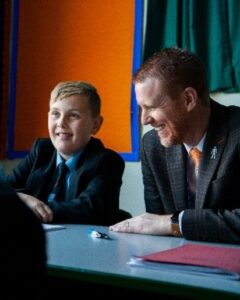 Finally, it is important to note that teaching and learning is at the heart of everything we do. Our focus for this year is around the use of the Great Teaching Toolkit and ensuring our Ordinarily Available Inclusive Practice enables all students to succeed in the right environment. With the building works now nearing completion, we are in a place where as the school building enters its 75th year, it will end the year in the strongest position it has been in for a long time.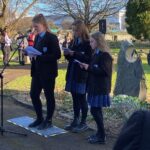 I hope you enjoy finding out about Warblington School, speaking to our amazing students and dedicated staff. Having access to a broad and balanced curriculum, and learning opportunities outside the classroom are key to our students developing into young adults. I sincerely hope that we will be welcoming you into our growing community in September 2024!
Excellence is our expectation.
September 2023
Mr M Hartnell