Attendance In Numbers
The Target Attendance for each student is 95%. Regular attendance by students is a major contribution to each student achieving academic success. At Warblington School we expect students to attend except when ill or other exceptional reasons which may prevent this. The school seeks the full support of parents in maintaining the highest level of attendance for their child.
There are 365 days in the year and 190 days in the school year.
If we take the days in school away from the days in the year, we see that for 175 days children are at home with their parents.
If a child takes leave of absence during term time, 10 school days, attendance starts to fall to only 180 days in school. If the child is then ill for 5 or more days in a year, they start to be at home more than they are in school.
365 – 190 = 175
If your child is late to school they will receive a 10 minute detention after school on the same day they are late. If your child fails to attend or if they are persistently late then the sanction will escalate.
Before you book a holiday in term time…
There are 38 weeks in the year when schools are open, and 14 weeks (175 days) when families can visit family overseas, go on holiday, travel, pupils can work, take educational trips, attend non urgent medical appointments etc.
So is your request for leave exceptional? This is for the headteacher to decide but consider would your employer grant you additional leave?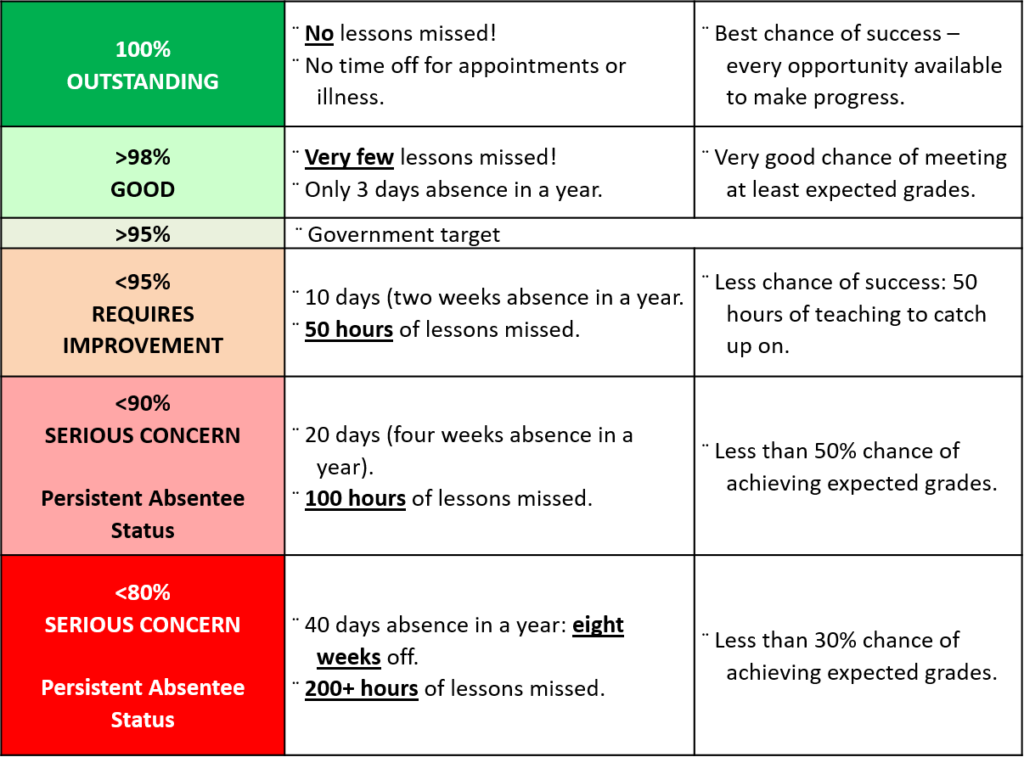 What to do if your child is absent?
In the case of a student who is unable to attend school, parents/carers are expected to inform the school daily as to why their child are absent. Warblington School has a dedicated telephone number for this purpose: 023 92 485159. If the school does not receive a call on the morning of absence, the parents/carers will be texted by our Attendance Officer and informed that their child are not in school. The parent can then reply or call the school directly to discuss why their child is absent. This allows the school to make contact with the parents/carers at an early stage when their child is absent and also helps to alert parents/carers to the fact that their child may have unexpectedly not turned up for school.
Authorised and Unauthorised Absences
Schools are only able to authorise absence from school in exceptional circumstances. In making a request for an authorised absence from school you will need to explain why the circumstances are exceptional. Please note: There is no general right to authorise absence for a family holiday. If you take your child out of school without permission the absence will be unauthorised and we will consider legal action.
Requests for students' absence should be made by initially contacting the Attendance Officer at school, and completing the form below.
You are advised not to make any arrangements until your request has been accepted
Click here for an absence request form
Train Crossing
A train leaves Havant station at 8:31am therefore the train gates will be down before and during this time first thing in the morning. This will impact students arriving at school.
Students should arrive at school at 8:30am and be in their first lesson by 8:35am.
Please bare this in mind when you drop your child off at school when passing through the crossing or if they walk through the crossing on their way to school.
Praise For Attendance
Attendance in school is vital for attainment so keep an eye out for in school challenges and competitions regarding attendance. Students who achieve 100% attendance receive an award in the summer presentations. Tutor group and whole school attendance figures are available to students to view on the board outside the canteen and also in the weekly school newsletter.
Mrs Abrams, Attendance Officer