The Target Attendance for each student is 95%. Regular attendance by students is a major contribution to each student achieving academic success. At Warblington School we expect students to attend except when ill or other exceptional reasons which may prevent this. The school seeks the full support of parents in maintaining the highest level of attendance for their child.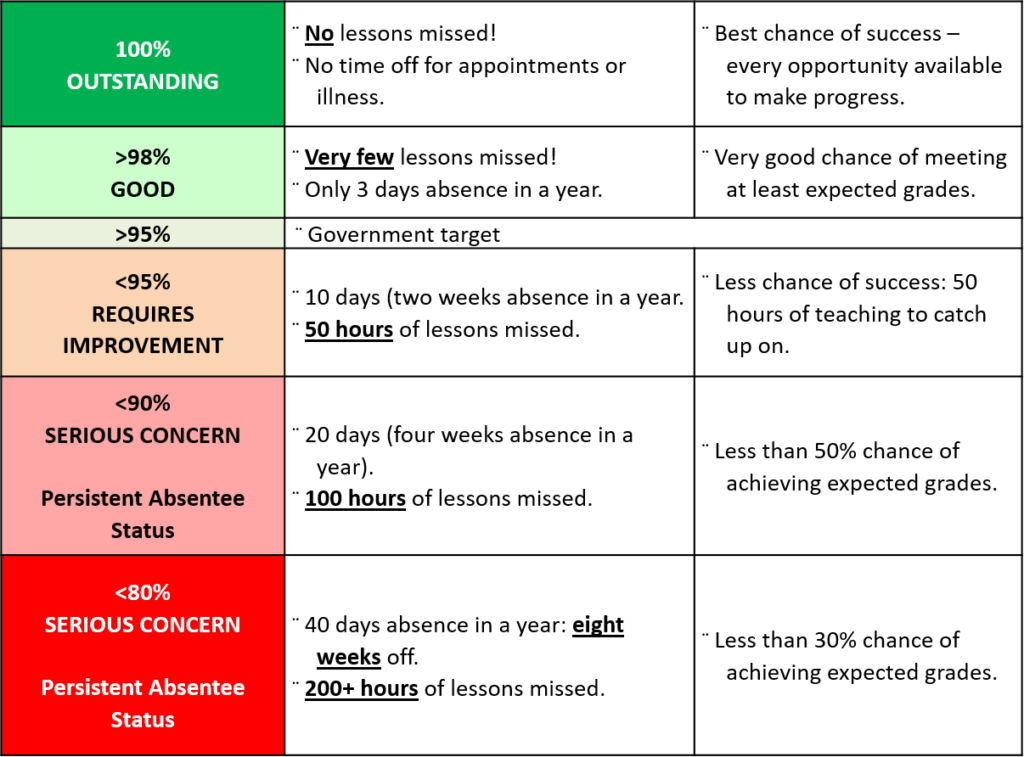 In the case of a student who is unable to attend school, parents/carers are expected to inform the school daily as to why their child are absent. Warblington School has a dedicated telephone number for this purpose: 023 92 485159. If the school does not receive a call on the morning of absence, the parents/carers will be texted by our Attendance Officer and informed that their child are not in school. The parent can then reply or call the school directly to discuss why their child is absent. This allows the school to make contact with the parents/carers at an early stage when their child is absent and also helps to alert parents/carers to the fact that their child may have unexpectedly not turned up for school.
Schools are only able to authorise absence from school in exceptional circumstances. In making a request for an authorised absence from school you will need to explain why the circumstances are exceptional. Please note: There is no general right to authorise absence for a family holiday. If you take your child out of school without permission the absence will be unauthorised and we will consider legal action.
Requests for students' absence should be made by initially contacting the Attendance Officer at school, and completing the form below.
You are advised not to make any arrangements until your request has been accepted
Click here for an absence request form
Bicycles:
Students are encouraged to cycle to and from School. Bicycles must be left locked in the cycle shed area and students must lock up their own bike as well. We recommend a strong D shaped lock.
Bicycles are brought to school 'at your own risk', even if left in the locked area, the school does not accept responsibility if parts or all of the bicycle is stolen or vandalised.
Year 11 Motor Cycles:
Year 11 students are allowed to ride motor cycles to school once they have reached the age of 16. They need to show their licence to a member of the Leadership Team who will issue a pass entitling them to bring their motor cycle onto school premises. Motor cycles are brought to School 'at your own risk'.