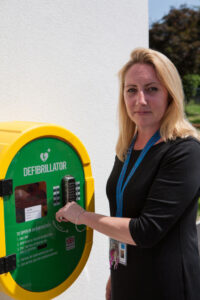 Our School Matron operates the Health and Wellbeing suite along with our First Aid trained staff within the school. From this room, we support you with your day to day medical needs. If you are feeling unwell, need to take medication or just to check-in with Matron everything is catered for as well as offering you support and guidance.
Emotional support is given to those with long term physical conditions in order to ensure a positive mental wellbeing with access to educational opportunities, therefore maximising rehabilitation.
Students with specific concerns, eg eating disorder, school phobic or reluctant school attendees are also supported in the Health and Wellbeing Suite.
General help and support is provided to a wide range of parents/carers regarding numerous health and wellbeing concerns in order to ensure that both you and your parent/carer are able to successfully 'cope' with education and at times wider life!
When a student is identified as benefiting from additional support, you will be put forward to 'The WSP' (Warblington Support Programme) for one-to-one mentoring on the school site. The sessions are conducted in a confidential environment by volunteers (who are CRB checked and appropriate training given) on a weekly basis.