Our Mission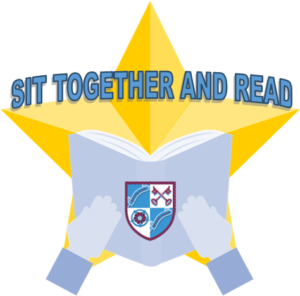 Warblington School has an ongoing commitment to improving students' reading, writing and oracy. We have embarked on a heightened, whole-school approach to both reading for pleasure and reading for progress and, through co-ordination and partnerships across all areas of the school, students are given opportunity to engage and improve.
In September 2021, our students were tested using Literacy Assessment. The results were:

Those students below expected level have been placed in a Reading Intervention during STAR Monday-Thursday. In this group they complete Guided Reading activities as a small group. This has been very successful across years 7-10.
Year 7 started with 15 in Intervention and by January 2022 there was 11.  Year 8 started with 19 and now has 14; Year 9 started with 15 and now has 6 and Year 10 started with 15 and now has 8. This shows how successful Guided Reading has been for those students. All students will be tested again in Summer 2022 to see the impact STAR is having on their Reading Age.
More Information About STAR
If students struggle to read, then the texts they encounter can be off-putting and then, understandably, result in low levels of enjoyment and demotivation. This creates a vicious cycle: as they struggle and don't enjoy it, they read less – and because they read less, they don't progress and find they struggle academically in other subject areas.
This is why we have introduced STAR from September 2021. STAR stands for Sit Together And Read and is held in tutor bases from 1.40-2.00 every day. In these sessions students are expected to read silently and for extended periods of time. The tutor in the room also reads at the same time.
How Can You Support Your Child at Home?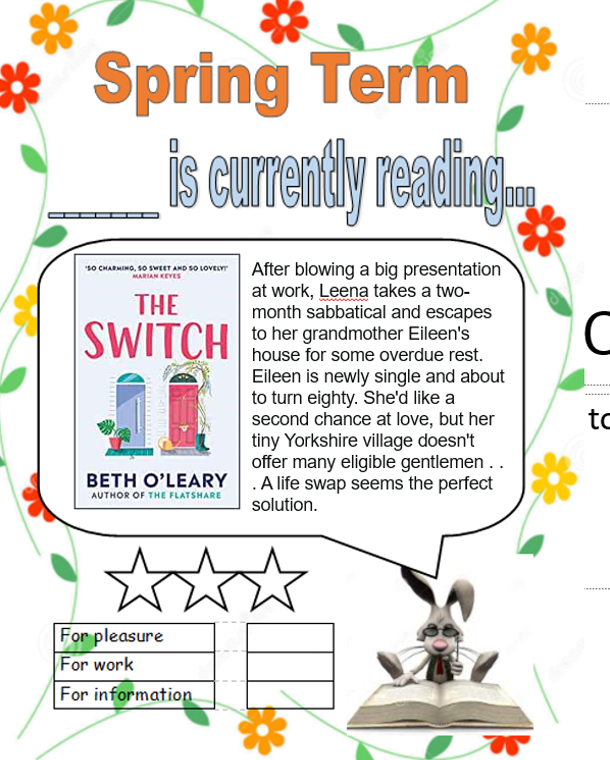 I Am Currently Reading…
Teachers are required to display the books they are currently reading on their classroom/office door.
Guided Reading
Something you may see at home are our Guided Reading Tasks.  Students are often given these to read themselves for homework and then, once back in class, the teachers guide them through a series of questions to see how well they have understood the topics studied.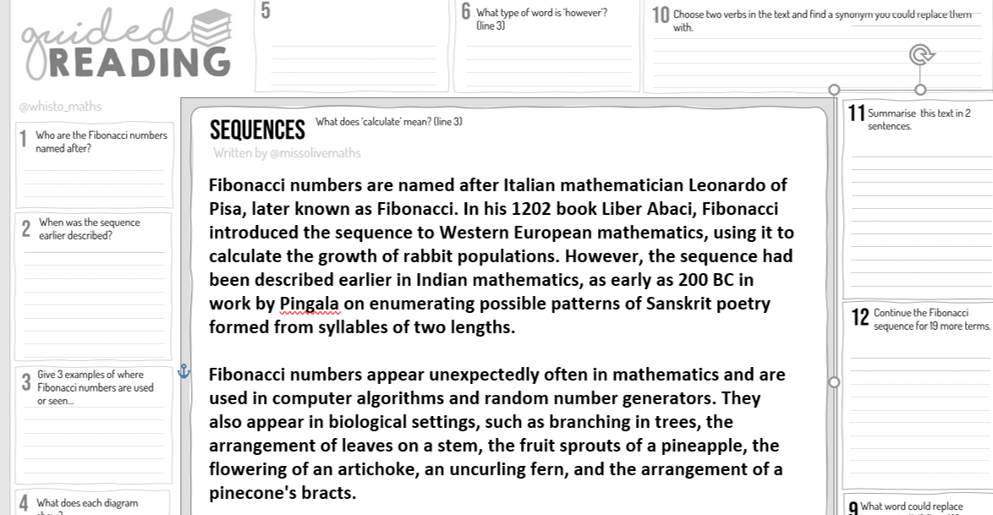 Share a Story
Each Half Term the whole school takes part in 'Share a Story'. At the start of each lesson, no matter the subject being taught, students are given a short section of a story which is then developed across the day. By lesson 5, students are able to guess the ending before it is revealed to them in class.  The focus on these sessions is reading for enjoyment, vocabulary development and discussion skills.
Click here for 100 Fiction Books to Read – 100 books all students should read before leaving secondary school, as voted by teachers
Recommended Reading List
Click here for the recommended reads road map from Year 7 to Year 11
| | | |
| --- | --- | --- |
| Year 7 | Year 8 | Year 9 |
| Artichoke Hearts – Brachmachari | The Hitchhiker's Guide to the Galaxy – Adams | The Secrets Act – Weatherby |
| Kick – Johnson | Madame Doubtfire – Fine | The Midwich Cuckoos – Wyndham |
| Watership Down – Adams | Animal Farm – Orwell | Hatchet – Paulsen |
| The Goldfish Boy – Thompson | The Coral Island – Ballantyne | The Twilight Saga – Meyer |
| The Wolves of Willoughby Chase – Aiken | Coram Boy – Gavin | Brave New World – Huxley |
| Peter Pan – Barrie | The Curious Incident of the Dog in the Nightime – Haddon | Brighton Rock – Greene |
| Stone Cold – Swindells | The Day of the Triffids – Wyndham | Catch 22 – Heller |
| Wolf – Cross | Goggle Eyes – Fine | Thief – Blackman |
| Boy/Going Solo – Dahl | Small Steps – Sachar | The Catcher in the Rye – Salinger |
| The Diary of a Young Girl – Anne Frank | Night Time – Haddon | Dracula – Stoker |